Grace Babula
Job before MMM: Analyst, Optum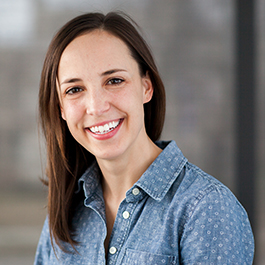 Hometown
 Eldred, NY | Boston, MA
Undergrad
Williams College – Chemistry
Job Before Kellogg
Analyst, Optum
Activities at Kellogg
Women's Business Association, Day at Kellogg
Affiliated Programs
Why did you choose MMM?
I've been a believer in "whole-brain thinking" for a long time—though I majored in science, I also took a bunch of art classes in college and always appreciated great design. While I was working at Optum, I noticed a need for integrating business and design thinking with science to improve the patient experience in healthcare. The MMM program seemed like the best way to do that!
What has been your favorite Kellogg/MMM memory?
One of my favorite memories was a potluck we had with the class over the summer quarter. I loved tasting what everyone brought and realizing that the MMMs are a multi-talented bunch.
What stands out about the MMM program?
The community! I'm amazed by how willing MMMs are to help each other out.
What is your favorite Evanston/Chicago activity?
Running along Lake Michigan with the view of the Chicago skyline
What do you like to do for fun?
I like to bake! A friend of mine gifted me a French pastry cookbook recently, and I'm excited to experiment with making croissants, eclairs, brioche, etc.
Some people would be surprised to learn that...
I once did one of the world's highest bungee jumps in South Africa.
What is on your bucket list?
Eating pizza in Naples, Italy.
Back to top