PrimaVita™
An infant-formula-feeding solution appliance
Problem
Currently in the market place there is no complete solution for infant-feeding. There has been a large product opportunity gap (POG) in electronic systems solutions.
Over the last five years, the small appliance market has grown tremendously. Multiple target segments look to creative solutions to provide convenience, speed and accuracy for every day tasks. The baby category is growing at a strong clip, with estimated total addressable market (TAM) at $66.8 billion by 2017. Possible growth drivers for this market increase can be attributed to the fact that baby care products are used for longer periods by the infants, as well as the fact that parents want the best available products for their baby; therefore disregarding the cost of certain products.
The PrimaVita™ is positioned to introduce a simple product opportunity in the infant feeding sub-category. With more and more dual-working, and single parent households, feeding convenience with a complete solution is ever more important. Product development and innovation has allowed manufacturers and retailers to widen the market by using new technologies and advanced marketing strategies.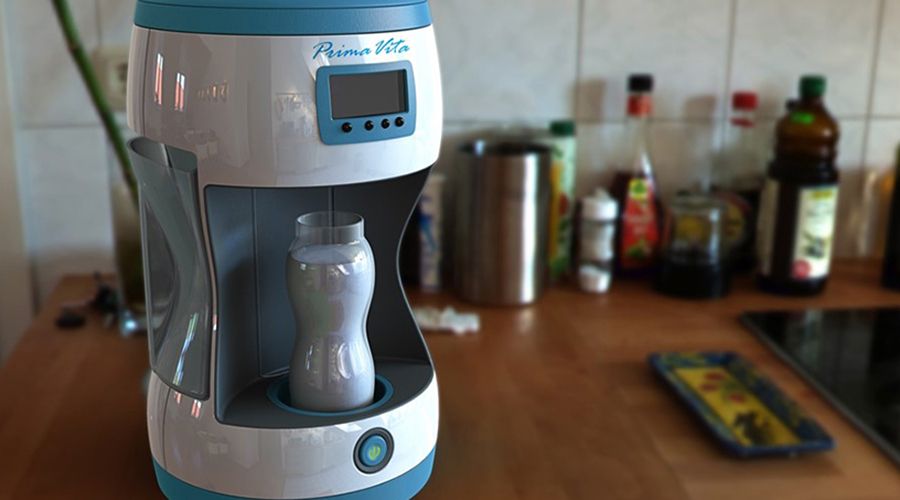 Solution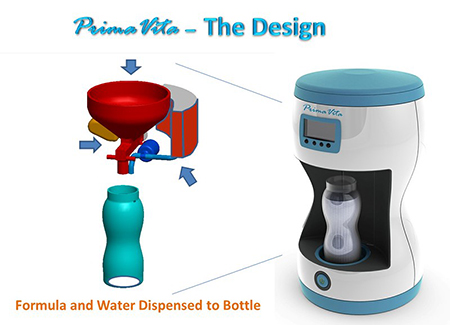 PrimaVita™ is a compact and user-friendly infant formula feeding solution appliance. Its design allows it to be positioned with other small appliances in the kitchen, or use via a cordless option that runs on rechargeable batteries.
Benefits
The system supports balanced storage of water to formula to be mixed
Controls for accurate metrics around mixture combinations, temperature, uniform distribution 
Provides varying levels of volume - 4,6,8,10,12 oz. of formula mixture
Performs a complete task in under a 45 second cycle time at a perfect 98.6 degrees F
Development Process
The team within the Master of Product Design & Development Management (mpd²) Program pursued a variety of different POG's (Product Opportunity Gaps), researching users in their environment and creating ethnographies to identify user needs and pain points.
After exploring the feasibility, viability, and desirability of solutions in each space, the students narrowed their focus on small appliance based kitchen solutions and the home.
The team used qualitative and quantitative market research tools including interviews, surveys, and analytics to understand the competitive landscape and identify potential segments of target users.
After iterating through several rounds of design concepts, prototyping, and user feedback, the team focused on two design solutions. A final round of in-person and on the street interviews helped determine the final design direction.
The team filed a provisional patent to secure intellectual capital for the unique aspects of their infant formula feeding solution appliance.
The team developed a business plan, based on the Business Model Canvas, including key partnerships, distribution channels, marketing, cost structure, key resources and activities, revenue streams, customer segments, and customer relationships.
Additional design and development went into packaging concepts and branding for the PrimaVita product and its go-to-market strategy, MARCOM communication plan, and trade launch and support execution.
Rapid prototyping was used to create the final prototypes which were sanded, primed, and painted for presentation to potential investors.
Back to top