A Course in Transformative Thinking
Students in Birju Shah's product management class are challenged to think about big problems and the goods and services that could help solve them.
The students who step into Birju Shah's class in product management are often vastly different from those who leave 10 weeks later.  
What happens between those points is the focused molding of some of the next generation's product management leaders.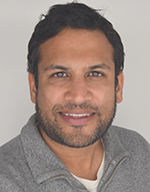 Shah is an adjunct lecturer in Northwestern Engineering's Master of Product Design and Development Management (MPD2) program. While his course is twice as long as most classes offered in MPD2, it still is a limited time to impart the wealth of knowledge he's learned from nearly two decades of product management.   
Nevertheless, Shah embraces that challenge. His goal is to share lessons from his career to help students understand the realities of product management.  
"I got into teaching to have that emotional connection with the next generation," he said. "I want to see them work on large problems I think they will face and their kids will face, and I just want to be there to guide them for that."  
Shah has taught a variety of classes across the McCormick School of Engineering, Kellogg School of Management, Medill School of Journalism, Media, Integrated Marketing Communications, Pritzker School of Law, and Feinberg School of Medicine for the past six years. What he sees in the MPD2 program sets it apart, he said.  
"I've lectured at many of the top institutions around the globe, and the MPD2 program's ability to set students up for a successful career in product management is top-tier," he said. "The breadth of the industry faculty experience coupled with the complex theoretical frameworks of product management leads to these students being multidimensional in their capabilities by the end of the program."  
Shah is one of those faculty members with deep industry experience. 
He is the CEO of Loam, a company he categorizes as a business's outsourced sustainability department. It uses artificial intelligence (AI) to help companies set and achieve long-term environmental responsibility goals and then accurately and vividly communicate the results to key stakeholders.  
Prior to heading up Loam, Shah worked for Uber for more than four years, first as the head of product AI and then as the head of product health, community, cities, and sustainability.  
Shah's career has been centered around useful innovation focused on achieving large societal outcomes. His goal with his MPD2 students is to help them change how they think about innovation.  
"The MPD2 students usually have relied on others within their company for either go-to-market, technical execution, and evolving products," he said. "I stress a bit more entrepreneurial thinking."  
That means stepping outside the confines of a particular company's product development strategy and working on creating their own set of tools to take an idea from concept to completion.   
Shah's lessons focus on developing emotional resilience in his students, alongside a thought process that takes them to the highest levels of the companies where they work – or start themselves.  
Seeing that success in his students is what keeps Shah excited about teaching.   
"I get more energy being a professor working with students with interesting ideas and passion," he said. "I prescribe to the learn one, teach one, do one mentality. I hope for my students to learn a framework we use in industry, teach them about it with a company example, and then have them execute that framework for their own companies or ideas."