When Work and School Collide
Kelli Palm (MPD2 '19) talks about how her career and graduate school lessons intersected to help make her more effective at Zimmer Biomet.
For Kelli Palm, it happened regularly. 
She would be juggling her working life with medical device maker Zimmer Biomet while attending classes as part of Northwestern Engineering's Master of Product Design and Development Program (MPD2), when suddenly, the two would converge.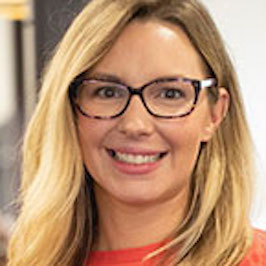 "I was at the point in my career where I wanted to learn more so I could better understand my professional growth," Palm (MPD2 '19) said. "I would have these moments where something I had just learned in the class the week before would be extremely relevant to a situation or discussion at work."
These seemingly random events served as confirmation for Palm that she made the right decision to further her education. Her MPD2 experience eventually led to a promotion from manager of product owners to associate director of product development in connected health. 
Palm's focus at Zimmer Biomet is on process improvements for its telehealth offering. If the journey of a thousand miles for a product from idea to launch begins with a single step, Palm and her team are there to ensure that step is correctly placed – and that every one after it is as hazard-free as possible. 
"I treat organizational processes as a product," she said. "When you're involved with process improvement while executing on the roadmap, you must have patience for the longer-term outcome." 
This responsibility became more challenging in the wake of the COVID-19 pandemic, which fundamentally changed how she and her team function. Guiding process improvement in a heavily regulated industry is difficult enough when the people involved are face-to-face; doing so in an increasingly remote working world is next-level challenging, she said. 
"The pandemic taught me a lot about myself as a manager and leader," she said. "When your product is a telehealth platform that supports patients in the high-risk category, we knew we had to pivot fast so patients could get the post-operative support they needed. I needed to learn how to remotely lead and build a team while executing at a fast pace."
That's where some of the most important lessons she learned during her MP2D experience come into play. 
"My entire team is remote and across multiple time zones," she said. "Engagement is important, but so is working efficiently. MPD2 courses and cohort teamwork taught me how to manage and work with multiple types of people and levels within an organization." 
It also helped bring structure to what can appear to be an extremely disorderly task of process improvement. Because of that, she recommends others looking to grow a career in product development consider a similar path through MPD2. 
"This program expands from getting messy in problem solving to formalized frameworks and outcome presentation," she said. "I have met so many people in product (design and development) that had their start in other roles but found they liked digging deeper and getting to the root problem. This program is for anyone wanting to break into product or who wants to grow the tools in their toolkit."