Teaching the Value of Accounting
Robin Soffer helps students in Northwestern Engineering's Master of Product Design and Development Management (mpd²) program understand that 'accounting is the language of business.'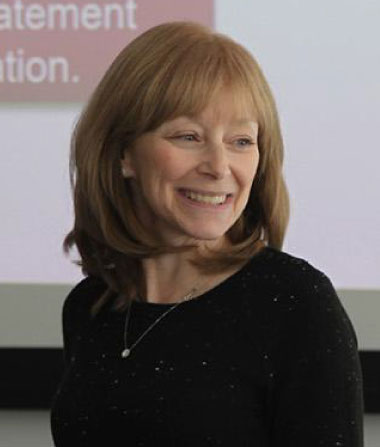 There are always trade-offs that come when developing a new product, from what features to include to the cost of materials to the ultimate price of the product. The product's success or failure often stems from the decisions related to those choices, and those decisions should be influenced by a strong foundation in accounting.
"Accounting is the language of business," said associate professor Robin Soffer, who teaches Accounting Issues for Product Development in Northwestern Engineering's Master of Product Design and Development Management (mpd²) program. "If you cannot speak the language, you cannot succeed. You need to be able to make smart decisions. You also need to be able to make persuasive recommendations about your business and/or products. You will need a good understanding of accounting to do that." 
Soffer knows that accounting might not be the most exciting of topics, but she's stressed its importance to mpd² students since 2015, and the students have responded. Since joining the program, Soffer has twice been voted as the program's faculty member of the year recipient. The recognition is meaningful to her because it indicates her students completed the class feeling they learned something new and grew both personally and professionally.
"I enjoy helping these students learn what they need to be successful in their futures," she said. "Knowing that they feel they learned a lot is important to me."
Soffer's five-week course provides an overview of accounting geared toward the needs of a new product or product design professional. Students learn to understand the financial statements of an organization, particularly a company's income statement and balance sheet. They also develop the knowledge and expertise needed to understand, analyze, and explain the financial performance of a company and learn how to make managerial decisions using that information.
Students enjoy Soffer's financial simulation activity where they are separated into teams and tasked with being data detectives. Each team is given a list of seven real companies, background information about the businesses, and financial ratios. The ratios are presented anonymously, so the students need to use known information about each business to determine which ratio belongs with which company.
"I want students to feel comfortable taking a seat at the table with a CEO or CFO or venture partners," she said. "I want them to be able to explain the impact their projects have on the financials and on the business. I want them to feel so comfortable that they look forward to presenting their projects to these senior business people." 
Soffer sees considerable growth in students in a relatively short amount of time. When she truly sees growth is in June of each year, when students present their formal capstone projects. It's there where students take all the lessons they learned in mpd² and apply them to a prototype of their own created product. Soffer sees them apply lessons learned in accounting — and she sees new products she never imagined she needed.
"I am always amazed at the projects, they are really incredible," she said. "I find myself wondering how I lived this long without having these products."