Riding His Own Wonkavator
The MPD2 program helped Justin Zupnick (MPD2 '18) find new direction for his career and prepared him for his current innovative role at a progressive health benefits provider.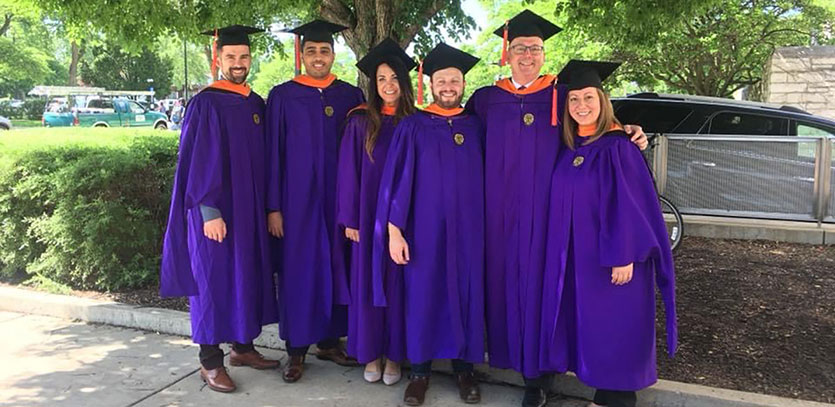 Northwestern Engineering's Master of Product Design and Development (MPD2) program has been called many things through the years, but probably never something from a 1970s classic. 
That is, until Justin Zupnick (MPD2 '18) went through the program. 
Prior to enrolling, Zupnick worked at five companies in five years. He needed stability, but he also needed flexibility to learn to grow within the user experience (UX) space. He said the MPD2 program was exactly what his career needed, and compared it to the Wonkavator, the transportation device at the end of the 1971 Gene Wilder film Willy Wonka & The Chocolate Factory that blasts Wonka, Charlie, and Grandpa Joe skyward. 
"I was a bit of the stereotypical millennial job-hopper, jumping from startup to startup, stuck in this elevator that would only go up or down," Zupnick said of his career before MPD2. "I needed a Wonkavator, something that could allow me to go sideways, slantways, longways, backways, squareways, roundways and any other ways you can think of. I felt MPD2 offered that." 
He was right. Today, Zupnick works at personalized health benefits provider Accolade, where he's been for nearly three years — longer than any of his previous employment. He started as a UX designer before being promoted to UX manager in December 2021.
Zupnick leads the design for Accolade's member-facing digital experiences across iOS, Android, and web platforms. Much of his work involves working within Accolade's innovation team to define and sculpt the vision for future areas of their product. 
"I've learned that with time comes influence," he said. "By doing the work, demonstrating and exhibiting the value of UX-driven design and research, day-in and day-out, eventually, I started being looked at to take the lead and drive initiatives beyond mere interface design and much more into strategic planning." 
The MPD2 program was a major catalyst. Not only did he learn how to successfully manage creativity, execute design, and lead product development, but it also helped him appreciate the larger significance of user experience. 
Zupnick took value from each of the lessons in the program, but his capstone project had the greatest impact. He and several of his classmates developed a baby monitor called Ripple designed to minimize new parents' sleep disruptions. Two of his teammates had young children, and watching them juggle work, school, and parenthood, he came to appreciate the value the product could bring to their sleep and their lives.
The team didn't pursue Ripple as a product after graduation, but the principles — and the potential impact a product can have on a user's life — remain fresh in Zupnick's mind. 
Now at Accolade, he works to share that appreciation for UX and understanding potential impact with his colleagues and partners.
"The user experience encompasses so much more than an interface, especially within the healthcare service industry," he said. "Through collaborations and presentations, including user research readouts, and UX team 'virtual roadshows' with key stakeholder groups, we reinforce that UX is so much more than user interface. Folks find these extremely valuable, and it's improved our team's sphere of influence."
Zupnick routinely works with many stakeholders, including developers, data scientists, clinicians, customer support, and executives in an effort to help companies provide their employees with healthcare benefits that are both personalized and affordable.  
He applies a human-centered design approach to innovating new products to make using health care benefits simpler and friendlier for its members. It's an approach he honed in MPD2 because he was allowed to go sideways and slantways during his learning experience. Now, whenever he talks with prospective MPD2 students, his advice to them is simple.
"Have fun," he said. "Take the Wonkavator."