Laundry Down to a Science
Sammy Wang (MPD2 '17) leans on her MPD2 experiences to help communicate the high-tech innovation behind some of P&G's most popular brands.
When most people think of laundry detergent – when they think of it at all – it's merely as the stuff that helps clean clothes and can smell pretty good. 
Not Sammy Wang. When Wang (MPD2 '17) thinks of laundry detergent, she thinks of science.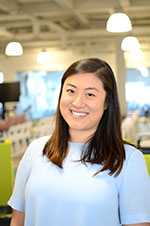 Wang leads scientific communication for some of Procter & Gamble's (P&G) most well-known brands, including Tide, Gain, Downy, and Bounce. As a senior scientist in the Cincinnati-based company's fabric care division, it's her job to help generate a deeper connection between P&G's products and the consumers who use them. 
"This means I help show the world the high-tech innovation that goes into the everyday products that consumers use in their homes," said Wang, who has been with P&G for more than a decade. "While you may not think too much about all of the science that goes into something like detergent, as laundry scientists and engineers, we sure do." 
Wang was already an accomplished bioengineer in 2015 when she decided to go back to school. Though Wang had her foot firmly in the door at P&G as a senior product design engineer in the company's new-product incubator, she said she felt she was missing something with her skillset.
That's where Northwestern Engineering's Master of Product Design and Development (MPD2) program came in. 
"As an engineer, I always wanted to build my expertise in industrial design to complement my technical background," she said. "MPD2 offered a unique, interdisciplinary approach to product design that I felt was the perfect blend of design, engineering, business and communications that the real world of product design requires."
So Wang began a challenging two years as a full-time P&G scientist and a part-time MPD2 student, commuting from Cincinnati to Evanston, Ill., for classes each weekend. She quickly realized she could take back more than leftover deep-dish pizza on her return trips to southwest Ohio. 
"I took the principles and frameworks from my weekend coursework and applied them to my work literally the next Monday," she said. "The MPD2 format incorporates a breadth of shorter-duration courses and is ideal for the working product design professional." 
Soon after her MPD2 graduation, Wang transferred from P&G Ventures to become a senior product design engineer in its oral care division. In October 2020, she moved to her current role in fabric care. 
The MPD2 program's lessons melded with her on-the-job experience at P&G to help her develop a dependable structure and vocabulary to talk about product design and development with a wide variety of audiences. It also taught her how to effectively mold her message based on how people learn best. 
"One of the best ways to communicate science is through product demos. Seeing is believing, after all," she said. "By distilling complex scientific principles into easy-to-understand, compelling demos, I can help quickly communicate the science behind our products and show how they can help make everyday tasks like laundry one less thing you need to worry about." 
What Wang learned in MPD2 continues to help her to this day.
"I use the concepts I learned during the MPD2 program instinctually in my everyday work," she said. "MPD2 made me a more efficient, effective, and well-rounded product designer."