Materials Testing Apparatus for Rolamite Linear Actuator (RLA)
A materials testing apparatus that mimics the line contact of the RLA and tests material combinations for a future RLA redesign
Problem
Psylotech, Inc. tests material properties of polymers to determine inputs for finite element analysis (FEA). To determine these inputs, Psylotech uses a polymer analysis device that utilizes an advanced motion control platform known as a Rolamite Linear Actuator (RLA). Psylotech observed wear patterns on the mover and drive shaft of the RLA under normal use, which could lead to inaccurate polymer test results.
Solution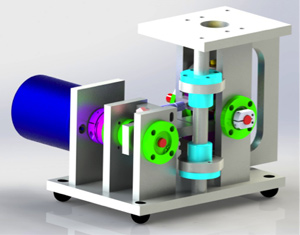 A team of students from Segal Design Certificate Program's DSGN 298-398 course (now DSGN 384-1,2) designed and built a materials testing apparatus that mimics the line contact of the RLA. This apparatus allowed them to test different material combinations to quantify the failure modes of the current RLA and determine the best material combination for a future redesign of the RLA.
The testing apparatus simulates the same line contact of the mover on the shaft of the RLA, while simplifying the current RLA design and controlling test variables.
The team ran control tests using the materials currently used in the RLA and observed wear patterns consistent with the RLA's.
Once all of the tests have been run, the experimental results will be compared to the control test results to determine a suitable material combination for the client's planned redesign of the RLA.
Back to top