FlexKit
An instruction kit for new users of Dynalloy's Flexinol® actuator wire, a shape memory alloy with unique properties
Problem
Flexinol® actuator wire is a shape memory alloy (SMA) to be used for linear actuation that contracts by 3 to 5 percent of its length when heated. Dynalloy, Inc. is the exclusive producer of Flexinol actuator wire, which it sells along with exclusive design services to companies worldwide in a variety of industries, including the automotive, aerospace, and toy industries.
Flexinol actuator wire has very specific operating conditions and is application specific, which makes designing with it often counterintuitive. Dynalloy is always looking for ways to present the unique properties of Flexinol actuator wire in an easy-to-understand platform for beginning users. A new instructive kit was one avenue to reach this goal.
Solution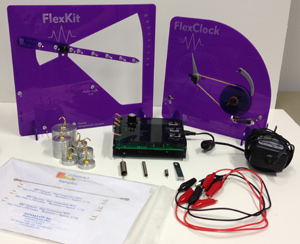 In 2012, a Segal student design team within the Manufacturing & Design Engineering Program began work on such a kit. This work was continued by a second team in 2013.
The final design, the FlexKit, introduces beginning users to Flexinol actuator wires. The kit includes an interactive platform, a user-friendly controller, intuitive instructions, and a creative capstone project that incorporates fundamental Flexinol concepts in an interesting design.
It requires a few easy-to-assemble parts to demonstrate some of the basic, essential properties of Flexinol actuator wires to users, namely wire force of different diameters, bias force, angular configurations, and other uses of Flexinol actuator wires via a lesson about antagonistic motion.
The kit is well designed and organized in an intuitive way so users of all levels will learn from it.
The kit's capstone, the FlexClock, is a clock/timer design that allows users to test their knowledge in an interesting separate project. The FlexClock incorporates user input by allowing the user to select a proper cycle time for the timer at specified intervals.
In the end, the user has a unique desk centerpiece to show off to friends how much he or she knows about a unique, emerging technology.
Team One (Winter-Spring 2012)
Patrick Schnettler, Computer Engineering '13
,
Elliott Sweeney, Psychology, Certificate in Engineering Design '12
,
David West, Manufacturing and Design Engineering '13
Team Two (Winter-Spring 2013)
Kevin Doherty, Mechanical Engineering, Segal Design Certificate '14
,
Emily Kelly, Industrial Engineering, Segal Design Certificate '14
,
Kyle Richardson, Manufacturing and Design Engineering '13
Advisers
John Anderson
,
John Lake
Program
Manufacturing & Design Engineering
,
Segal Design Certificate
Back to top