Arindam Paul
Design Research Fellow Alumnus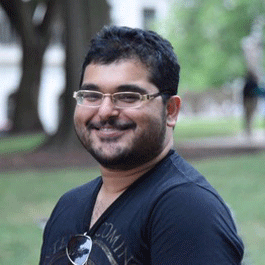 About
Arindam Paul is a PhD candidate in the Electrical Engineering and Computer Science program. He currently works with his PhD advisor, Alok Choudhary and co-advisor, Ankit Agrawal to develop machine learning based systems to accelerate materials discovery. He received a Segal Design Cluster Fellowship for developing a system prototype for monitoring community concerns for students from anonymous social media. The work got published in ACM SIGKDD Conference on Knowledge Discovery and Data Mining in 2016. Paul developed an online system for predicting performance of a given Organic Photovoltaic device using machine learning and molecular fingerprinting.
Before coming to Northwestern, Paul developed a system as part of his Masters research to detect sybil attacks (a computer security attack wherein a reputation system is subverted by forging identities) in peer too-peer networks using a novel concept of using psychometric tests.
His research interests include machine learning, materials informatics, natural language processing, data mining, social media analysis.
Paul is the President of the Northwestern Toastmasters Club. He was also the President of the Northwestern Cricket Club from 2015-16. He has given talks in Illinois schools as part of Northwestern's Graduate Student Speaker Series , and has conducted workshops as part of McCormick Graduate Leadership Council Transferable Skills Series.
Education
MS, Computer Science, Northwestern University, Evanston, IL
MEng, Software Systems, BITS Pilani, India
BEng, Chemical Engineering, BITS Pilani, India
Significant Recognition
Predictive Science and Engineering Design Cluster Fellowship (2016-17)
Walter P. Murphy Fellowship (2012-13)
Back to top