Ian Horswill
Member, Segal Research Council
Associate Professor of Electrical Engineering and Computer Science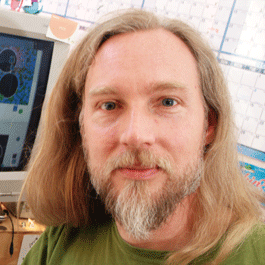 Contact Info
2133 Sheridan Road, Room 3-321 Evanston, IL 60208
About
Ian Horswill is an associate professor of computer science at Northwestern University. He is a member of the Department of Electrical Engineering and Computer Science, where he is director of the division of graphics and interactive media, and was co-founder of Northwestern's Animate Arts program.
His research interests include interactive entertainment technologies, and cognitive modeling for virtual characters, particularly modeling of emotion and personality.
He is associate editor of IEEE Transactions on Computational Intelligence and AI in Computer Games (TCIAIG) and a member of the board of directors of the Society for the Advancement of the Science of Digital Games. He has chaired the standing committee of the Association for the Advancement of Artificial Intelligence's Fall and Spring Symposium Series, as well as the 2009 International Conference on the Foundations of Digital Games.
He is currently program chair of the Conference on Artificial Intelligence and Interactive Digital Entertainment 2013 (AIIDE '13).
Education
PhD, Computer Science, Massachusetts Institute of Technology, Cambridge, MA
MS, Computer Science, Massachusetts Institute of Technology, Cambridge, MA
Bachelor of Computer Science, University of Minnesota, Minneapolis, MN
Research Interests
Interactive entertainment technologies; cognitive modeling for virtual characters, particularly modeling of emotion and personality
Back to top