New EDIs Take on Wabi Sabi-Themed Boot Camp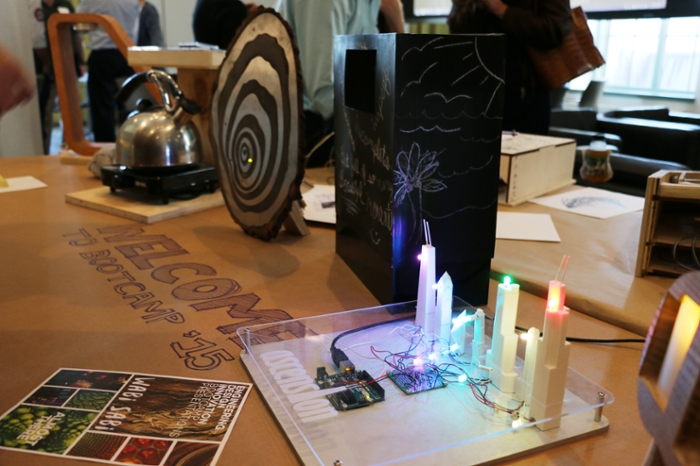 EDI's orientation came to a successful close Sunday when the newest class of talented students presented his or her project to a crowded Cohen Commons packed with faculty and peers.
The orientation known in these parts as Boot Camp, is a three-week immersive dive into some of the skills students will be employing during their time as an EDI. With the clock ticking, the schedule was filled with various workshops, introductions to our maker spaces, visits to local design consultancies and more. 
This year's Boot Camp theme was "Wabi Sabi," which is a Japanese worldview or aesthetic that celebrates transience and imperfection. The theme was inspired by gravitytank Associate Partner and EDI thesis mentor Antonio García who consistently embraces the philosophy of Life in Beta. According to García, Life in Beta is a way to look at our own lives as if they were one giant beta test and to imagine ourselves as the testers.
"Then the stuff that we encounter that would normally be catastrophic or seen as some sort of barrier or challenge, we would instead think 'No, I just discovered some sort of bug along the way and I'm excited to try to solve this thing or just move past it," García said.
Following the theme's reveal day one, students began delving into new skills such as trying out Arduino in our mechatronics lab and getting hands-on with the lathes in our shop. The ultimate goal: To create a project that aligned with the Wabi Sabi theme by the end of boot camp. 
With a premise that thrives on the idea of no right or wrong, it was no surprise that the range of projects was wide – from riffs on board games to artistic clocks to moving shelves, even an acoustic pickle jar. 
Intrigued? You should be! Check out some of the photos below from this year's Wabi Sabi Boot Camp adventure.