Anil Divakaran
Job before MMM: Content Stategist at 2U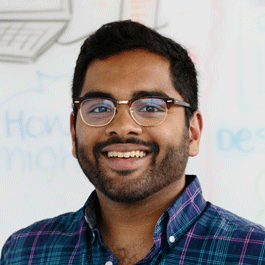 Hometown
East Meadow, New York
Undergrad
New York University - Marketing
Job Before Kellogg
Content Stategist at 2U
Affiliated Programs
Why did you choose MMM?
The MMM Program was especially appealing to me because I wanted to gain a hard skillset in design and technology – outside of the typical MBA curriculum – in order to understand how to add value to an organization in a differentiated way.
What does design innovation mean to you?
Design innovation means approaching problems from a relentless mindset of putting humans first. Observations are prioritized over hypotheses, and empathy is more important than a high IQ. If an individual or organization can gain a deep understanding of who customers are, solutions can be tailored to meet their unmet needs in an incredibly impactful way.
What do you wish you had known before starting business school?
I wish I had known how bad the bagels were in the Midwest. I would have brought more frozen New York ones when I moved here.
I wish I knew how to...
Ski...or at least ski well. But it hasn't prevented me from enjoying the Kellogg ski trip two consecutive years!
What is your favorite weekend activity?
The mini
New York Times
crossword puzzle.
Back to top