Brandon Washington
Product Design, Design Engineering, Product Management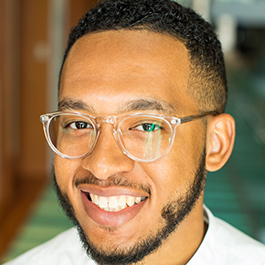 About
Brandon admires how well-executed products inspire positive emotion from their customers. As a design engineer, he recognizes that the balance of form, function, and performance⸺from first impression to lasting impact⸺can make or break a product. Thus, he developed an understanding of not only solving problems, but making sure that the "right" problems are being addressed in the iterative design process. He believes empathy is the first step⸺that one should walk a mile in an end user's shoes before "making shoes" for that end user. This belief leads to disruptive, intuitive products that don't miss the mark. Brandon aspires to bring these insights to industries beyond his automotive experiences by leveraging both his creative and technical skills to design products within cultural context.
Why EDI?
Brandon was first exposed to Design Thinking via an internal innovation start-up at General Motors. This innovation incubator brought new perspective to his mindset in the product design space. During his time working within the group, he took to the human-centered design approach and then wanted to grow his affinity for it beyond the automotive sector. Wanting to delve deeper into the world of design, he decided that working cross-functionally is crucial to achieving his goals. He hopes EDI's combination of engineering and design will allow him to improve his technical and creative skill sets within a collaborative environment.
Education
BS, Aerospace Engineering, Purdue University  
Experience
Advanced Vehicle Design Engineer, General Motors
Design Release Engineer Intern, General Motors
Misc
Brandon is both a certified Car Guy and Sneaker-head. Although both industries are starkly different, he loves how both cars and shoes can be beautiful cross-sections of design and engineering; thus, cultivating an emotional attachment from their customers.
Back to top