Gretchen Vogt
Product Design, Healthcare, Social Impact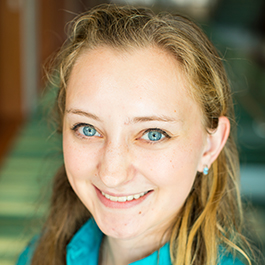 About
Gretchen has always had a passion for medical innovations, because the application of engineering to healthcare is a universal topic, whether that healthcare involves medicine, medical devices, or access. Gretchen has a background in medical care. She spent summers as a Medical Assistant at a gynecologist clinic in Memphis, Tennessee. While working there, Gretchen realized that the world of medicine, specifically surrounding women's health, can be improved upon. Her senior capstone project at Northwestern University partnered with Project C.U.R.E., and involved converting an All-Terrain Vehicle into a basic ambulance. The concept behind the All-Terrain Ambulance is to provide transportation for patients from their rural homes to a hospital. Gretchen and her team focused on designing a prototype vehicle for Liberia, but the project is expected to expand worldwide.
Why EDI?
Gretchen first knew EDI as the masters students working across the hall from her job in the Rapid Prototyping Lab. Over the years, seeing the students develop creative, useful, and sometimes wacky projects made her realize that EDI was the place for her.
Education
B.S. Mechanical Engineering and English (Creative Writing) Northwestern University
Experience
Undergraduate staff, Northwestern Rapid Prototyping Lab
Misc
In her free time, Gretchen enjoys writing fiction, playing with all kinds of animals, and sewing.
Back to top