Arijit Nerurkar
Product Design, Design Engineering, Tech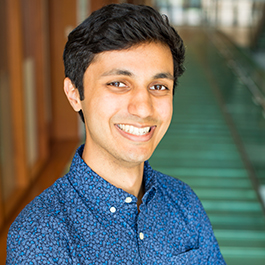 About
With a background in theatre and engineering, Arijit enjoys investigating the interaction between tech and humans. He is fascinated by wearable devices and hopes to build on his technical knowledge by developing a sensitivity for target audiences. 
Why EDI?
A liberal arts undergraduate, Arijit integrated his skill in natural sciences with his inventiveness in the arts. He thus developed a keen interest in approaching ideas through multiple disciplines. Arijit believes EDI fosters a creatively diverse environment where he can build on his interests and approach problems through different perspectives.
Education
BS, Engineering, Swarthmore College
Experience
Biomedical Engineering Research Intern, Swarthmore College
Misc
Arijit loves theatre, movies, and soccer. When he isn't in the design studio, he's probably reading plays, making movie posters, or doing improv comedy.
Back to top