Sophie Lancaster
Product Design, UI/UX, Tech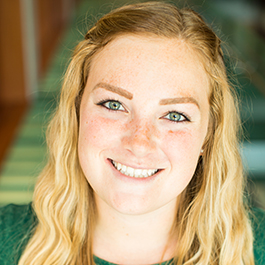 About
Sophie chose to pursue engineering because she has always been passionate about using her love for technical subjects to make some sort of tangible change. Sophie is excited that EDI will augment her technical background and give her the skills necessary to create change in the form of user-centered products and interfaces.
Why EDI?
Sophie studied Computer Science at the University of Notre Dame and quickly became hooked on coding and the possibilities that came with it. While her education at Notre Dame equipped her with the skills necessary to confidently progress into more technical roles, Sophie felt a human component was missing. During her last semester of college, Sophie took a human-computer interaction class that changed her perspective on how she wanted to use her technical skills. This class introduced Sophie to human-centered design thinking and immediately she knew she had to learn more about this area of study. EDI quickly became her top choice program because its curriculum includes core classes in different areas of design and it allows individuals to chose an area of specialization through electives and a thesis. Additionally, Sophie is excited about the small size of the program because of the potential for camaraderie within the cohort.
Education
BS, Computer Science, University of Notre Dame
Misc
I love to travel and that love stems from all the traveling my family did during our five years living in the Netherlands.
Back to top