Curriculum
EDI coursework includes a sequence of four studio courses in human-centered design: product design, interaction design, service design, and design strategy. The studio courses are augmented by courses in design research, visual storytelling, and IP strategy. Thesis project topics are selected by students and mentored by design practitioners from industry. The full-time program focuses heavily on hands-on, team-based projects and collaborative learning.
---
EDI Curriculum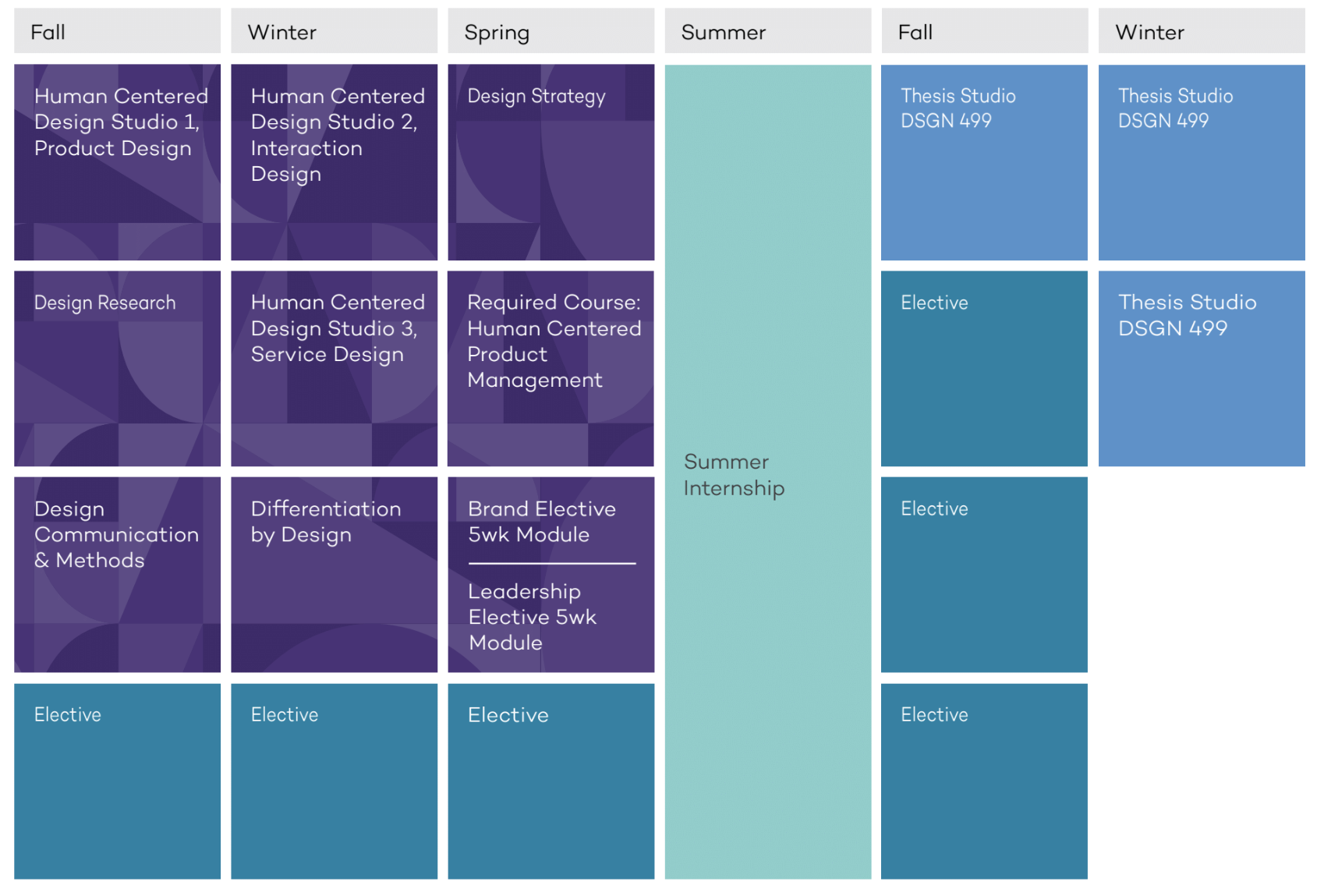 After several years of research with industry, alumni, and current students, we are excited to announce the transition to an 18-month program. This change reflects an improved continuity across Thesis Studio as well as the incorporation of new courses in human-centered design leadership.
The custom-designed EDI program curriculum focuses on an integrated design process that blends analytical skills, intuition, and creative thinking to develop practical solutions. Starting in fall 2020, the 18-month program includes eight core courses open only to EDI students, seven elective courses of the student's choosing, and a three-unit thesis project.
Core Courses
EDI core coursework provides students with a high-level understanding of the design process, research methodologies, and innovation strategy through team-based project work.
Guided by iterative prototyping and testing, students work in teams to define design problems and develop concepts for innovative products, interactions, services, and experiences.
All students take eight core courses, plus thesis:
---
Summer Internship
During the summer between their third and fourth quarters, EDI students are encouraged to participate in one of several design-related summer internships. Internship opportunities vary and no student is guaranteed placement. For more information, contact Amy O'Keefe, Co-Director of the EDI program, at edi@northwestern.edu or 847-467-4275.
---
Grade and Residency Requirements
EDI students must make satisfactory academic progress as defined by The Graduate School to qualify for degree completion. In addition, every credit unit counted towards the master's degree must receive a grade of "C" or better. Students must complete all degree requirements within six quarters of study in order to qualify for the master's degree.
Students who do not meet satisfactory academic progress requirements will be placed on academic probation for one quarter. If after one quarter, academic progress has not improved, students will be subject to exclusion from the degree.
Back to top