Paul Specht
Adjunct Lecturer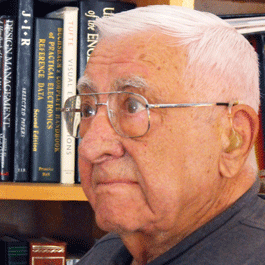 Contact Info
PBS Design, Inc., 241 Laurel Avenue Wilmette, IL 60091
847-256-4811
Affiliated Programs
About
During a professional career spanning more than 60 years as an independent industrial design consultant, Paul Specht, FIDSA, has executed with distinction numerous major design and development assignments for a broad range of world wide clients.
Functioning in the dual roles of lead designer and program administrator, he has been intimately involved with a wide range of design activities embracing product planning and strategy, product design and technical development, production implementation, research, teaching, and as general counsel to both industry and governments.
He has received numerous awards for outstanding design innovation and engineering excellence and has been granted over 45 utility and design patents in widely divergent industry fields ranging in scale and complexity from precision microsurgical tools to locomotives, from high-heel shoe structures to pet chew toys and sophisticated wound drainage systems.
Education
Valparaiso University
Engineering, Georgia Institute of Technology
Industrial Design, School of the Art Institute of Chicago
Research Interests
Statistical design of industrial and simulation experiments; engineering design and development; quality improvement and quality control; applied statistical methods
Back to top