New Product Designs Emerge from MPD²​ Course
Students pitched to audience of faculty, guests, and peers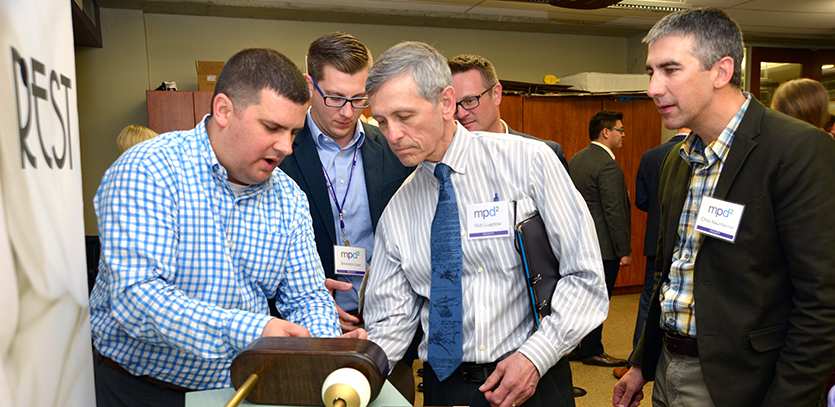 On June 2, students in the Master of Product Design and Development (mpd2) program presented their capstone projects before an audience of faculty, advisory board members, fellow students, and even a few potential investors at the Ford Motor Company Engineering Design Center on Northwestern's Evanston campus.
With guidance from Professor Richard Lueptow, the students integrated what they had learned throughout the mpd2 program, including industrial design, market research, marketing, and finance. Prompted to design a new product for the home, six teams of students designed products ranging from a kitchen appliance to a multifunctional lamp to a storage subscription service.
This year's capstone projects included:
govo, a smart self-care case for women struggling with infertility

REST, a high end, multifunctional bedside light that acts as a sleep aid

Relay, a new personal cart

Counterchef, a three-level induction cooking appliance

Catalyst Kids, a kit that connects parents and children through engaging cooking activities

Stash, a subscription service that provides on-demand storage and retrieval of a customer's belongings
"One of the most impressive changes in this year's products is the integration of smart phone apps into the products," said Lueptow. "The Stash product is built around an app-based delivery and storage service. This is the first truly service-based product developed in [this program]." He also pointed out that govo and REST incorporated an app into their product's overall design.
During her presentation for govo, a case for women struggling with infertility, Bridget McMullan explained how her team decided on the dimensions of their product. "It's small enough to fit into [the customer's] purse but large enough to contain all her medications, injections, and thermometers," she said. The govo case is bluetooth-enabled,  so an app on the customer's smartphone can send her reminders. 
Her teammate, Tracy Dubas, described what she liked most about working on a capstone project in the mpd2 program.
"The best part of mpd2 is getting to be hands-on, to take an idea from that first spark and then cultivate it into a fully formed product," said Dubas. "With the capstone, you get to see everything come together through the integration of three pillars: the design pillar that focuses on the creative, empathic, iterative, human-centered side of product development; the engineering pillar that focuses on the physical materials, the process, and the actual creation; and the business pillar that focuses on the practical financials, the patents, and the leadership skills. You get to integrate all your course learnings and put them into action."
Brandon Loss, an mpd2 student who helped design a sleep aid device called REST, explained how his team would like to market their product.
"We want to meet our target consumer where they're at, on their phone," said Loss. He added that they would plan to marketing with Instagram and Facebook to reach millennials who are staying up late while looking at their smartphones.
Loss praised Professor Lueptow for guiding the  mpd2 students through the course.
"Professor Lueptow does an incredible job of pulling six teams together in the final five weeks. It's hard to describe the process because you are just in it, and next thing you know it's week four and you are presenting a complete presentation to your peers for feedback leading into the final week," Loss said. "Having operated in a product development role for several years, I was familiar with the various stages of the process. However, the mpd2 program took me out of my engineering silo and made me walk a mile in the shoes of a designer, ethnographer, and marketer."

Jenni Billings, one of the mpd2 students who designed Counterchef, explained the concept behind her team's product design.
"We wanted something that can make your entire dinner and liberate you from the kitchen," Billings said. The Counterchef team added a silicone coating to the exterior of the cooking containers so that they could double as serving dishes.
While the product designs are a tangible takeaway from the capstone course, Dubas described the intangible value of teamwork as another key takeaway.
"Through this program, I realized how valuable collaboration is," said Dubas. "Just as any new product has many physical components that have to come together, like hinges, springs and circuits, so too does the product development process rely on multiple people's expertise and perspectives in order for a new product to be successfully realized."